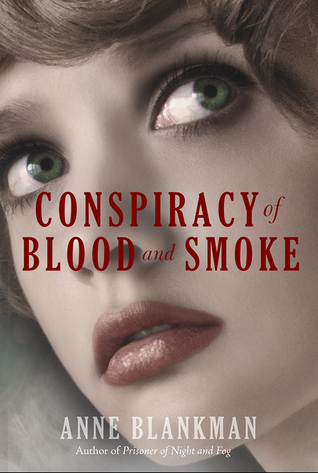 Author: Anne Blankman
Series: Prisoner of Night and Fog, #2
Released: April 21st 2015
Publisher: Balzer + Bray
Length: 416 pages
Source: Publisher for reivew
Buy: Amazon
The girl known as Gretchen Whitestone has a secret: She used to be part of Adolf Hitler's inner circle. More than a year after she made an enemy of her old family friend and fled Munich, she lives with a kindly English family, posing as an ordinary German immigrant, and is preparing to graduate from high school. Her love, Daniel Cohen, is a reporter in town. For the first time in her life, Gretchen is content.

But then, Daniel gets a telegram that sends him back to Germany, and Gretchen's world turns upside-down. And when she receives word that Daniel is wanted for murder, she has to face the danger she thought she'd escaped-and return to her homeland.

Gretchen must do everything she can to avoid capture and recognition, even though saving Daniel will mean consorting with her former friends, the Nazi elite. And as they work to clear Daniel's name, Gretchen and Daniel discover a deadly conspiracy stretching from the slums of Berlin to the Reichstag itself. Can they dig up the explosive truth and get out in time-or will Hitler discover them first?
Prisoner of Night and Fog, Anne Blankman's incredible debut and part one of her duology, seemed at times too good to be true. Extensively researched, clever, and deeply emotional, it explored a time some would rather leave forgotten, the darkest time in Germany's history. Blankman gave us front row seats to Hitler's rise to power, seen through the eyes of one of his darlings, a young girl he'd taken under his wing and treated as a favorite niece. But the events in Prisoner of Night and Fog took Gretchen away from the man she knew as Uncle Dolf, and in Conspiracy of Blood and Smoke, the two are bitter enemies, and Gretchen is sure she'd be killed on sight.
Forced to leave her comfortable life in Oxford and return to Germany with Daniel, Gretchen is forced to face the demon from her past, the man she once loved deeply and trusted implicitly. This time, with her eyes wide open, she hopes to uncover the Nazi Party's many conspiracies and stop Hitler's rise to absolute power.
Unfortunately, with the distance between Gretchen and Hitler, the book has lost some of its allure. We still see actual historical events, but this time we view them from afar, as would anyone else. We are not privy to insider information, not anymore, which means that we've lost our chance to learn more about the deterioration of his psyche. There's still plenty to admire about the book, but that part, the part I admired most in Prisoner of Night and Fog, is all but gone.
Of course, the events in 1933 Berlin are still thoroughly researched and presented in a wonderful blend of fact and fiction, which makes this book highly educational as well as entertaining. The work Blankman has finally put before us is impeccable. She did her job and she did it well, finding the perfect balance between history, fiction and character development.
We left Gretchen and Daniel in a very good place last time, but while life seemed to be looking up for Gretchen, Daniel has had a far more difficult time. Although he was safe, Oxford hasn't been kind to him as everything that made him the extraordinary boy Gretchen fell in love with was roughly taken away. Friendless and unable to be a proper journalist, he spent his days in sadness and loneliness, but was determined to hide it from his girlfriend. Goying back to Germany brings light to their difficulty, and in Conspiracy of Blood and Smoke, their uncertain future causes a substantial rift between them. Nevertheless, our two darlings never turn their back on each other and they constantly work in perfect sync to bring down the Nazi Party.
Minor faults aside, Conspiracy of Blood and Smoke is a perfect conclusion to this story. Blankman set the bar pretty high, but she was more than up to the challenge. I can't wait to see what she'll give us next.
A copy of this book was kindly provided by the publisher for review purposes. No considerations, monetary or otherwise, have influenced the opinions expressed in this review.