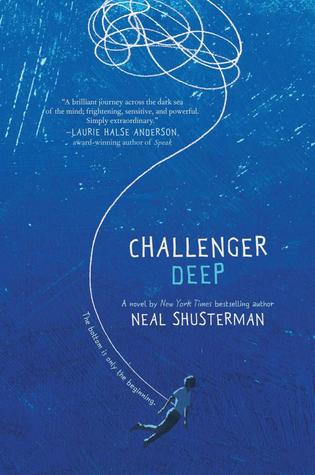 Author: Neal Shusterman
Series: Standalone
Released: April 21st 2015
Publisher: HarperCollins
Length: 320 pages
Source: Publisher for review
Buy: Amazon
Caden Bosch is on a ship that's headed for the deepest point on Earth: Challenger Deep, the southern part of the Marianas Trench.

Caden Bosch is a brilliant high school student whose friends are starting to notice his odd behavior.

Caden Bosch is designated the ship's artist in residence, to document the journey with images.

Caden Bosch pretends to join the school track team but spends his days walking for miles, absorbed by the thoughts in his head.

Caden Bosch is split between his allegiance to the captain and the allure of mutiny.

Caden Bosch is torn.

A captivating and powerful novel that lingers long beyond the last page, Challenger Deep is a heartfelt tour de force by one of today's most admired writers for teens.
This is the third gorgeously written book with positive representation of mental illness I've read this month. Third! It looks like YA is finally going there, endeavoring to explore the unexplorable. Neal Shusterman's new book, Challenger Deep, is the latest and brightest attempt to shed some light onto the struggles of people with mental disorders.
Challenger Deep
is a magical book – smart and funny, intelligent and poignant, frightening and thought provoking – all at once. The mood changes with each extremely brief chapter, and the rapid changes serve not only to manipulate our mood, but also to truly impress upon us that we've entered a scattered mind. This time, Shusterman writes from experience; his own son struggled with mental illness and the illustrations included in his book are Brendan's from those times.
I suppose if you don't know what to expect,
Challenger Deep
can be a bit tricky at first. Some chapters are accessible and realistic, and then there are those that are completely detached from reality. To add to that, the unrealistic chapters are deeply allegorical, and although it quickly becomes clear what they represent, getting to that point can be a bit trying. But everything you have to go through to fully experience this book is more than worth it. While it can be challenging at times, it's also extremely rewarding.
The story has no less than three layers: the more or less healthy family life from Caden's memories, the rapid deterioration of his sanity, and finally his life on the ship, an obvious metaphor and a sign of sanity lost. The whole decline is simply heartbreaking, but Shusterman still manages to make it all run smoothly.
Understanding mental illness and stopping discrimination against people who struggle with it is the next important step this society needs to take. Each decade has its own civil rights fight, and I truly hope we tackle this next. Books like Challenger Deep are extremely important in that regard and as someone whose family battled those same issues, I thank Neal and Brendan Shusterman from the bottom of my heart.
Every YA reader out there knows Neal Shusterman's name, and if they don't, I can honestly say they should. This is an author who constantly pushes the limits, who turns YA into something new and entirely unexpected each time. He should be celebrated far and wide and his work, more specifically this book, should get the accolades it deserves.
A copy of this book was kindly provided by the publisher for review purposes. No considerations, monetary or otherwise, have influenced the opinions expressed in this review.