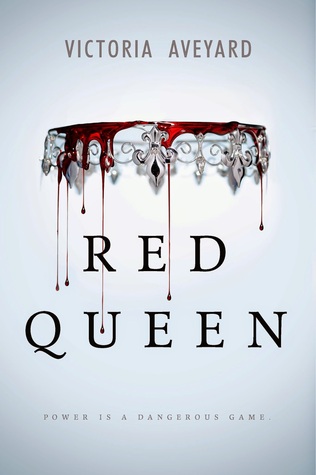 Author: Victoria Aveyard
Series: Red Queen, #1
Released: February 10th 2015
Publisher: Harper Teen
Length: 383 pages
Source: Publisher for review
Buy: Amazon
Graceling meets The Selection in debut novelist Victoria Aveyard's sweeping tale of seventeen-year-old Mare, a common girl whose once-latent magical power draws her into the dangerous intrigue of the king's palace. Will her power save her or condemn her?

Mare Barrow's world is divided by blood--those with common, Red blood serve the Silver- blooded elite, who are gifted with superhuman abilities. Mare is a Red, scraping by as a thief in a poor, rural village, until a twist of fate throws her in front of the Silver court. Before the king, princes, and all the nobles, she discovers she has an ability of her own.

To cover up this impossibility, the king forces her to play the role of a lost Silver princess and betroths her to one of his own sons. As Mare is drawn further into the Silver world, she risks everything and uses her new position to help the Scarlet Guard--a growing Red rebellion--even as her heart tugs her in an impossible direction. One wrong move can lead to her death, but in the dangerous game she plays, the only certainty is betrayal.
Fans of Throne of Glass, Snow Like Ashes and other popular YA fantasies have much to look forward to. Victoria Aveyard took a much proven formula, twisted it and turned it until, at least on the surface, it became something new. At first glance, Red Queen seems to be exactly what a successful novel in this genre should be. It's exciting, emotional, highly addictive and it leaves you begging for more.
You'd be hard pressed to find anything original about it, though.
We've read this story one too many times, it seems. A poor but resourceful girl suddenly becomes very important in her society. She gets accepted to court under false pretenses and has to secretly learn to be a lady in order to survive. The king and the people around him are cruel and unforgiving. Poor Mare has to watch her people suffer while she's enjoying all the luxury – even if she is sacrificing herself for the greater good.
Ahh, but the story wouldn't be complete without a handsome prince or two! Oddly enough, the love triangle (Rectangle? Pentagon? Whatever.) didn't bother me nearly as much as it did in other similar stories. This is probably due to the fact that the romance itself never struck a chord with me. Other emotions were far more important, like the feeling of hopelessness, abandonment and overwhelming fear. Mare was all alone in a world where everyone was her enemy. Romance wasn't at the forefront of her mind most of the time, and the same applied to me. Perhaps things will develop in the next installment, but I'm quite happy with the way they are now.
I've always had a soft spot for stories that involve individuals with superpowers. X-men is kind of my thing, and so is Hunting Lila and other stories that follow the same path. Red Queen follows along as well – in Mare's world, people with silver blood rule over those who bleed red, and the Silvers all have some special ability, whether it's pyrokinesis, mind reading or anything else of the sort. The different powers were by far the best part of this book. Even though they were used time and time again, Aveyard found a way to make them her own, especially when it came to Mare.
While this wasn't the perfect book for me, neither was Throne of Glass, so please take my opinion with a grain of salt. The story
is
very promising and I have high hopes for the sequel. I'll definitely be reading it when the time comes.
A copy of this book was kindly provided by the publisher for review purposes. No considerations, monetary or otherwise, have influenced the opinions expressed in this review.