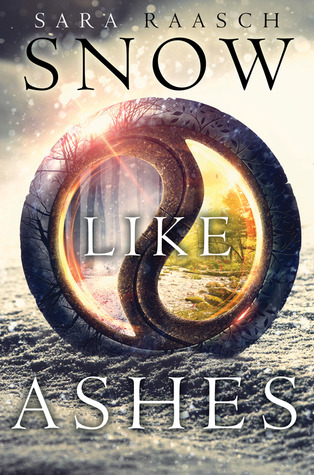 Author: Sara Raasch
Series: Snow Like Ashes, #1
Released: October 14th 2014
Publisher: Balzer + Bray
Length: 422 pages
Source: Publisher for review
Buy: Amazon
A heartbroken girl. A fierce warrior. A hero in the making.

Sixteen years ago the Kingdom of Winter was conquered and its citizens enslaved, leaving them without magic or a monarch. Now, the Winterians' only hope for freedom is the eight survivors who managed to escape, and who have been waiting for the opportunity to steal back Winter's magic and rebuild the kingdom ever since.

Orphaned as an infant during Winter's defeat, Meira has lived her whole life as a refugee, raised by the Winterians' general, Sir. Training to be a warrior—and desperately in love with her best friend, and future king, Mather — she would do anything to help her kingdom rise to power again.

So when scouts discover the location of the ancient locket that can restore Winter's magic, Meira decides to go after it herself. Finally, she's scaling towers, fighting enemy soldiers, and serving her kingdom just as she's always dreamed she would. But the mission doesn't go as planned, and Meira soon finds herself thrust into a world of evil magic and dangerous politics – and ultimately comes to realize that her destiny is not, never has been, her own.
YA fantasy is one of my favorite (sub)genres, but it's also the one I'm most picky about. There are examples of almost flawless series everyone seems to love but me, and then there are some I practically worship and reread all the time. When Snow Like Ashes started being compared to Throne of Glass, I have to admit I was worried. Throne of Glass is one of those books (and even series) that makes me feel like the odd one out –I appreciate it, but I don't feel compelled to read the next book at all, and even when I do, I tend to be annoyed with the characters and their actions.
While
Snow Like Ashes
is similar to
Throne of Glass
in that it's YA fantasy and that everyone seems to like it, for me, that's where the similarities end. I had some trouble starting this book (mostly because of my preconceived notions and misgivings), but once it pulled me in, the experience was beautiful and unforgettable. I not only want to read the second book, I would sell my soul to get my hands on it as soon as possible.
The world Raasch created doesn't have the intricacy of Cashore's world or the precise beauty of Lumatere, but it is well done and it has so much potential for further development. Eight kingdoms divided into two group of fours – the Seasons and the Rhythms – are ruled by kings and queens with special conduits of magic. Only Winter has no conduit, not since Spring destroyed the kingdom, killed their queen Hannah, and enslaved everyone but a small group of refugees.
Meira is among these refugees, and so is Mather, the rightful heir to the throne. Their small group has been trying to get their conduit back for over 15 years without success, until Meira takes things into her own hands. From the start, Meira is a character we can easily admire and cheer on. She is capable and more than ready to defy authority when needed, and she doesn't hesitate to put herself in danger if it can somehow help her kingdom. She is one of those heroines that think for themselves at all times, and she doesn't allow anyone to influence her or tell her what to do. Even when cornered, she finds a way to take control of her own life as much as possible, and this balance she always tries to achieve is what made me like her instantly.
Meira, of course, has been half in love with Mather her whole life, and not only because he's the only boy her age around. I saw this infatuation as something childish, caused more by circumstances than anything else, and was thrilled when she seemed to outgrow it and let go. There is another boy, of course, a much better boy for our Meira and it is my hope that the story will further take her in his direction and away from childish fantasies.
The pacing of this story is absolutely brilliant. Raasch's writes like a seasoned author and rarely gives us time to breathe. I can't even imagine what comes next for Meira, Theron, Mather and the rest, but whatever it is, I'm confident it will be written flawlessly.
A copy of this book was kindly provided by the publisher for review purposes. No considerations, monetary or otherwise, have influenced the opinions expressed in this review.