Welcome, nocturnal readers!
I am honored to be part of Darynda Jones' Seventh Grave and No Body promo tour. I reviewed Seventh Grave yesterday (read my review HERE) and now I want all of you to read it as well. Charley always brings joy and laughter into my life, which is precisely what I wish for all of you.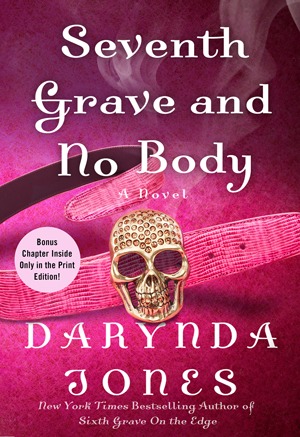 Blurb:

Twelve. Twelve of the deadliest beasts ever forged in the fires of hell have escaped onto our plane, and they want nothing more than to rip out the jugular of Charley Davidson and serve her lifeless, mangled body to Satan for dinner. So there's that. But Charley has more on her plate than a mob of testy hellhounds. For one thing, her father has disappeared, and the more she retraces his last steps, the more she learns he was conducting an investigation of his own, one that has Charley questioning everything she's ever known about him. Add to that an ex-BFF who is haunting her night and day, a rash of suicides that has authorities baffled, and a drop-dead sexy fiancé who has attracted the attentions of a local celebrity, and Charley is not having the best week of her life.

A tad north of hell, a hop, skip, and a jump past the realm of eternity, is a little place called Earth, and Charley Davidson, grim reaper extraordinaire, is determined to do everything in her power to protect it.

We're doomed.
Excerpt:
Still covered in duct tape, he turned on his side to face me, his flesh straining against the binds. "You would tell me if something were wrong, right?"
"What do you mean? Of course, I would."
"So, if you knew something could happen to you, you'd let me know."
Where was he going with this? "Yes. Nothing is going to happen to me. Well, unless the Twelve get ahold of me. Other than that, I should be fine."
He nodded in thought.
"Reyes, what is it?"
"I think you keep secrets from me."
"You keep secrets from me," I said, teasing. "Seems only fair."
He leaned forward and nibbled on my ear. "We can decide who gets to keep secrets and who doesn't later. Until then, want to do it?"
"Reyes!" I said, appalled. "You just had your arm nearly ripped off at the shoulder." That and the fact that a grown man asking me if I wanted to "do it" was hilarious.
"We can still do it."
I giggled. "No, we can't."
"I'm very creative with my mouth."
"I am well aware of that."
"You should sit on my face."
A bubble of laughter escaped again. "I am not sitting on your face. Oh, my god."
"Just sit on my face. I'll make all your dreams come true."
"You really need to practice humility," I said.
"Humility is overrated."
Meet Darynda Jones:
NYTimes and USA Today Bestselling Author Darynda Jones has won numerous awards for her work, including a prestigious Golden Heart®, a Rebecca, two Hold Medallions, a RITA ®, and a Daphne du Maurier, and she has received stellar reviews from dozens of publications including starred reviews from Publisher's Weekly, Booklist, and the Library Journal. As a born storyteller, Darynda grew up spinning tales of dashing damsels and heroes in distress for any unfortunate soul who happened by, annoying man and beast alike, and she is ever so grateful for the opportunity to carry on that tradition. She currently has two series with St. Martin's Press: The Charley Davidson Series and the Darklight Trilogy. She lives in the Land of Enchantment, also known as New Mexico, with her husband of almost 30 years and two beautiful sons, the Mighty, Mighty Jones Boys. She can be found at www.daryndajones.com.
In this tour-wide giveaway, you can enter to win one of 5 hardcover copies of Seventh Grave and No Body. Good luck!
a Rafflecopter giveaway
You can also vote for The Nocturnal Library to become Darynda's blog of the day! This would be a HUGE honor for us. Your votes are greatly appreciated. :)
a Rafflecopter giveaway
Thanks for stopping by, everyone!