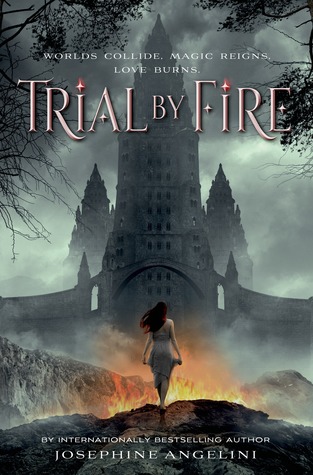 Author: Josephine Angelini
Series: Worldwaker Trilogy, #1
Released: September 2nd 2014
Publisher: Feiwel & Friends
Lenght: 384 pages
Source: Publisher for review
Buy: Amazon
This world is trying to kill Lily Proctor. Her life-threatening allergies keep her from enjoying experiences that others in her hometown of Salem take for granted, which is why she is determined to enjoy her first high school party with her best friend and longtime crush, Tristan. But after a humiliating incident in front of half her graduating class, Lily wishes she could just disappear.

Suddenly, Lily is in a different Salem—one overrun with horrifying creatures and ruled by powerful women called Crucibles. Strongest and cruelest of them all is Lillian . . . Lily's other self in this alternate universe.

What makes Lily weak at home is what makes her extraordinary in New Salem. In this confusing world, Lily is torn between responsibilities she can't hope to shoulder alone and a love she never expected.
Although it has a firm connection to our world,
Trial by Fire
could very well be considered a fantasy novel. Our heroine, Lily, crosses into a different world at the very beginning, and while designed to mirror our own, this new world is different enough in everything including social structure to be considered a fantasy setting.
Admittedly, the worldbuilding isn't particularly elaborate, but it serves the story very well, and it will probably expand in the next two installments, although I don't really feel that there's too much to add. While simple, Lillian's world (as opposed to Lily's world, which is also ours) is perfectly functional and developed just enough to carry the story easily.
Lily is exactly the type of heroine that's easy to admire and even love. Her own world was never kind to her, not only because of her allergies to just about everything, but because of the difficulties she had to endure socially. Her friendship with Tristan was often the only thing holding her together, so when even that was taken from her rather cruelly, the episode was almost too difficult to bear.
Tristan's unforgivable actions at the beginning of this story caused me to fear that Lily would somehow end up back in their unequal, dysfunctional dynamic, but she was spared from it both by her crossing into Lillian's world, and by her own strength which wouldn't allow her to be anyone's inferior for long. On the other side, she met Lillian's Tristan which was once again cause for some concern, but while he shared many similarities with Lily's, his existence was heavily marked by Rowan's, who was inexplicably absent from Lily's world. Tristan's affection for Lillian/Lily was quite evident, but so was his peace with the fact that he'd always come second to Rowan. The romantic feelings that threatened to develop between them never even so much as sparked as Rowan's strong presence overtook both the story and the possibility of gaining Lily's affection.
I must confess that Lily and Rowan's relationship of trust and attraction made me a bit uneasy at times. On the surface, it was pure perfection, slowly built from dislike and mistrust to strong friendship and perhaps even something more. But I couldn't force myself to forget the fact that Rowan was once intimate with a different version of Lily, and that he loved Lillian strongly, even though she wronged him, and every time I thought about it, I found it infinitely creepy.
Despite my focus on the romance in this review, I should mention that the book's focus is primarily on Lily herself and her long journey. The path from childish infatuation with Tristan to mature, genuine feelings she developed for Rowan is just one of the things that show her tremendous growth in this book. Wherever she goes and whatever she does next, I'll be her ally until the very end.
A copy of this book was kindly provided by the publisher for review purposes. No considerations, monetary or otherwise, have influenced the opinions expressed in this review.