Author:
Amy Butler Greenfield
Series: Chantress, #2
Published: May 6th 2014
Margaret K. McElderry Books
Lenght: 352 pages
Source: Publisher for review
Buy: Amazon
Lucy races against time and magic in this sequel to the "richly and thoughtfully written" (Publishers Weekly) Chantress.

Lucy is the last Chantress, the only remaining girl who can sing magic into the world. Since she defeated the evil Lord Scargrave, England has changed—and not for the better. With crops failing and the people rebelling, Lucy is called urgently back to King Henry's court. His Inner Council is convinced that making gold through alchemy will save England. But a critical element to the alchemical process has been stolen. Lucy is tasked with finding it with her magic… or else. And until she succeeds, the castle is on lockdown.

Court too has changed. Scargrave's brutal Chantress-hunter has become King Henry's closest advisor. Lucy's beloved Nat has fallen out of favor and is shunned by his colleagues; their romance means trouble for both of them. Worst of all, something goes wrong with Lucy's magic. The palace is a labyrinth, and there's a monster at its heart — a monster who may have the power to defeat Lucy once and for all.

Amy Butler Greenfield returns to the beguiling world of Chantress for a suspenseful tale of courtly intrigue, music, and magic in Chantress Alchemy.
Chantress Alchemy, the sequel to Amy Butler Greenfield's YA historical fantasy debut, is one of my hotly anticipated releases in 2014. Everything I loved about Chantress - the gorgeous setting, fabulous characters and Butler Greenfield's elegant writing – is present in this sequel as well. Not only is Chantress Alchemy as good as its predecessor, I dare say it's a much better book in some regards.
As much as I enjoyed
Chantress
last year, I thought its plot wasn't complex enough. It was fairly straightforward when I wanted something elaborate. In that,
Chantress Alchemy
shows a significant improvement. Due to King's gratitude, Lucy has a voice in the council and is much more involved, which means that the plot is richer and far more dynamic. Lucy's voice is now heard when she talks, and not just when she sings, and her opinions are taken into consideration by the King. I loved seeing her play a more important role, but what's more, I loved that she wasn't always up to task. She is young, after all, and she was constantly being attacked by much older shrewd politicians.
The romance was just as lovely, if not more. Both of these characters are strong and interesting in their own right. The final installment promises to be very hard for them both, but I have no doubt that they'll come out as winners in the end.
Chantress
is an unusually well written trilogy worthy of your time and attention. I listened to a part of it and the audio is excellent as well. If you decide to go with that format, you won't be disappointed.
A copy of this book was kindly provided by the publisher for review purposes. No considerations, monetary or otherwise, have influenced the opinions expressed in this review.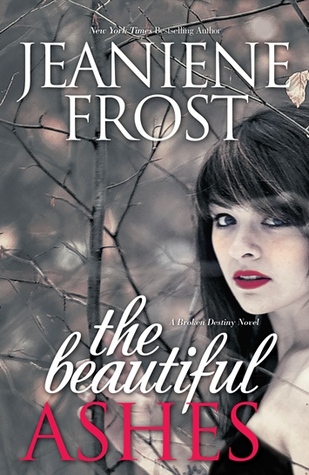 Author: Jeaniene Frost
Series: Broken Destiny, #1
Published: August 26th 2014
Publisher: Harlequin
Lenght: 304 pages
Source: Publisher for review
Buy: Amazon
In a world of shadows, anything is possible. Except escaping your fate.

Ever since she was a child, Ivy has been gripped by visions of strange realms just beyond her own. But when her sister goes missing, Ivy discovers the truth is far worse—her hallucinations are real, and her sister is trapped in a parallel realm. And the one person who believes her is the dangerously attractive guy who's bound by an ancient legacy to betray her.

Adrian might have turned his back on those who raised him, but that doesn't mean he can change his fate…no matter how strong a pull he feels toward Ivy. Together they search for the powerful relic that can save her sister, but Adrian knows what Ivy doesn't: that every step brings Ivy closer to the truth about her own destiny, and a war that could doom the world. Sooner or later, it will be Ivy on one side and Adrian on the other. And nothing but ashes in between…
After more than ten books in her Night Huntress world, Jeaniene Frost bravely decided to do something else entirely. I'm sure it wasn't an easy transition for her just like it isn't easy for us readers to adapt, but was it successful? I'd say the jury's still out.

The world of Broken Destiny is not an original one. We've read about angels and demons battling it out far too many times to count. Yet Jeaniene Frost somehow managed to put a slightly different spin on this never-ending battle which I enjoyed immensely. Her worldbuilding was detailed and gorgeously described, the dark and violent realms depicted in finest detail. Ivy's world and its many creatures are this book's biggest strength and I can't wait to see them developed even further.

The same, however, cannot be said about the romance. Just like the battle of angels and demons, he star-crossed lovers trope has been done one too many times, and there's nothing to make Ivy and Adrian stand out. The amount of instalove and insta-trust was just creepy and the whole reason for staying apart not convincing at all. To make matters worse, Adrian is the epitome of tortured hero, without a shred of charm to soften the blow.

I'll continue the series simply because Jeaniene Frost is writing it. If Ivy and Adrian manage to find a sense of humor in time for the next book, all the better. There's definitely hope for Ivy, but Adrian and humor were never officially introduced.


A copy of this book was kindly provided by the publisher for review purposes. No considerations, monetary or otherwise, have influenced the opinions expressed in this review.