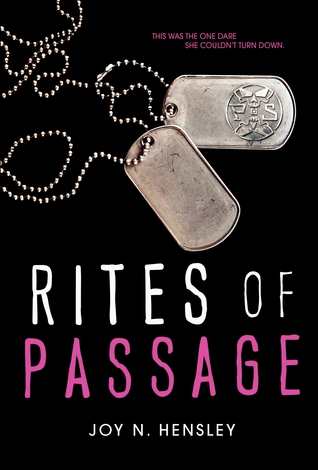 Author: Joy N. Hensley
Published: September 9th 2014
Publisher: HarperTeen
Lenght: 416 pages
Source: Publisher for review
Buy: Amazon
Sam McKenna's never turned down a dare. And she's not going to start with the last one her brother gave her before he died.




So Sam joins the first-ever class of girls at the prestigious Denmark Military Academy. She's expecting push-ups and long runs, rope climbing and mud-crawling. As a military brat, she can handle an obstacle course just as well as the boys. She's even expecting the hostility she gets from some of the cadets who don't think girls belong there. What she's not expecting is her fiery attraction to her drill sergeant. But dating is strictly forbidden and Sam won't risk her future, or the dare, on something so petty...no matter how much she wants him.




As Sam struggles to prove herself, she discovers that some of the boys don't just want her gone—they will stop at nothing to drive her out. When their petty threats turn to brutal hazing, bleeding into every corner of her life, she realizes they are not acting alone. A decades-old secret society is alive and active… and determined to force her out.

At any cost.




Now time's running short. Sam must decide who she can trust...and choosing the wrong person could have deadly consequences.
Sometimes, though not nearly often enough, a book grabs my attention from start to finish and refuses to let go. Rites of Passage is one of those books that make you experience and react strongly to everything that happens, but also forces you to realize some harsh truths about yourself, truths you could have kept hidden and unacknowledged otherwise.
In other words, it made me face the fact that I'm a wuss.
Watching Sam McKenna go through hell at the military school she chose to attend on a dare – not only physical hell, but emotional as well – made me realize that I might just be a quitter somewhere deep inside. However, while I can't finish a year (or even a day) of training at DMA, I can certainly finish a book in one sitting. Or, you know, several. Hah! Take that, Mac! You can do a gazillion push-ups, but I can turn those pages like nobody's business.
And turning the pages frantically is exactly what I did. Unexpectedly… shockingly even,
Rites of Passage
was very emotionally draining. It had been a long time since a book really made me cry, but watching Sam being ostracized, completely rejected not only by her peers, but by her dysfunctional family as well, broke my little heart into a million pieces. I admired this girl's bravery and persistence the entire time. She never once faltered, not even when she was left all alone, beaten and abused.
I was also more than a little surprised by the quality of Hensley's writing. Her language is simple and clear, but the level of emotions that permeate every sentence of her narrative is extremely high. I have, unfortunately, learned not to expect much when picking up something entirely unfamiliar, but my low expectations made this whole experience that much more thrilling.
The ending, however, was less than satisfactory, which broke my heart in a different way altogether. This was going to be a perfect five-star read until things started to unravel. When they did, they went in two different directions: some were resolved far too neatly and suddenly, and some felt completely unfinished. The romance especially, after a whole lot of build-up, didn't leave me with a warm and fuzzy feeling like I expected and needed it to after the emotional turmoil this book put me through. There is talk of a sequel, however, so hopefully things won't be left like this permanently.
A copy of this book was kindly provided by the publisher for review purposes. No considerations, monetary or otherwise, have influenced the opinions expressed in this review.