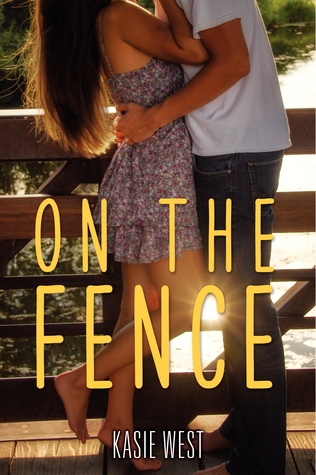 Author: Kasie West
Series: No
Published: July 1st 2014
Publisher: Harper Teen
Format: Paperback, 296 pgs
Source: Publisher for review
Buy: The Book Depository
For sixteen-year-old Charlotte Reynolds, aka Charlie, being raised by a single dad and three older brothers has its perks. She can outrun, outscore, and outwit every boy she knows—including her longtime neighbor and honorary fourth brother, Braden. But when it comes to being a girl, Charlie doesn't know the first thing about anything. So when she starts working at chichi boutique to pay off a speeding ticket, she finds herself in a strange new world of makeup, lacy skirts, and BeDazzlers. Even stranger, she's spending time with a boy who has never seen her tear it up in a pickup game.

To cope with the stress of faking her way through this new reality, Charlie seeks late-night refuge in her backyard, talking out her problems with Braden by the fence that separates them. But their Fence Chats can't solve Charlie's biggest problem: she's falling for Braden. Hard. She knows what it means to go for the win, but if spilling her secret means losing him for good, the stakes just got too high.
On the Fence is one of those sweet summer reads you can read and enjoy in no more than a couple of hours, only to forget all about them by the next day. That's not to say that it doesn't have any value – quite the contrary, actually. Summer is a great time for sweet, uncomplicated romances, and very few authors write them better than Kasie West.
Her Charlie is a tomboy if there ever was one. Raised by her father and three older brothers, she knows her sports extremely well, but she's clueless when it comes to clothes, make up, or even boys. What's more, Charlie doesn't want to learn about those things, and even if she would, her brothers would tease her mercilessly. But when she finds a job in a small clothes store and has to start paying more attention to her looks, Charlie is forced to face parts of her life she was intent on burying until that point.
Although Charlie makes some pretty big mistakes along the way, they all make sense from a purely psychological viewpoint, so it's not hard at all to sympathize with her even when she really crosses the line. In the end, my favorite thing about her was that she wasn't afraid to admit her mistakes, or even why she made them in the first place. That's exactly the type of heroine I can get behind.
I'm not a big fan of YA contemporary romance, mostly because I have hard time believing the strength of those feelings when the protagonists are so young, but Charlie and Braden's love for each other made perfect sense even to me. Their romance was based on a life-long friendship and perfect understanding, which is a stronger foundation than even some adults have. Aside from being adorable, their late night conversations on the fence that divides their back yards convince the reader that these two are perfect for each other.
In conclusion, I highly recommend this book to everyone, regardless of their age. It's a very sweet read perfect for a warm summer evening. Kasie West has proven to be a very dependable author, which put her right on my pre-order list.
A copy of this book was kindly provided by the publisher for review purposes. No considerations, monetary or otherwise, have influenced the opinions expressed in this review.