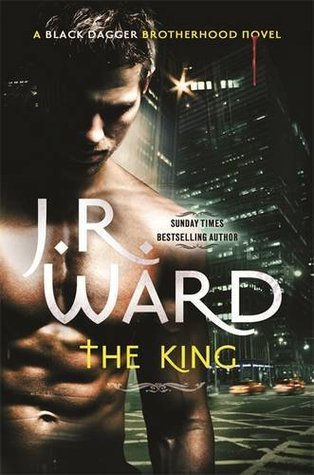 Author:
J.R. Ward
Series: Black Dagger
Brotherhood, #12
Published: April 1st 2014
Publisher: Piatkus
Format: Hardcover, 573 pgs
Source: Publisher for review
Buy: The Book Depository
In the darkest corners of the night in Caldwell, New York, a conflict like no other rages. The city is home to a band of brothers born to defend their race: the warrior vampires of the Black Dagger Brotherhood . . .




Wrath and the Brotherhood are locked in an epic battle over his throne and the very future of the vampire race.
It's been a very long time since I picked up a J.R. Ward book. I stopped reading this series after book 5, not because I didn't like them (I loved them!), but because I just needed a break and I somehow never went back. But when this gorgeousness arrived on my doorstep, I knew any resistance on my part would be futile.
The King is told from multiple perspectives, which is something Ward didn't do back when I was following the series. Seeing as I skipped more than a few books along the way (trust me, I regret it now), I had a hard time following the additional storylines. But I remember Beth and Wrath very well and I enjoyed every second I got to spend with the two of them. They've come a long way and changed each other so much, but they've both kept the most important parts of their personalities. They can be extremely hardheaded, difficult and uncompromising (well, Wrath especially), but once they come to their senses, they are a formidable couple. And so darn adorable too.
As a general rule, I dislike flashbacks in both books and movies, but there was simply no other way to tell the story of Wrath's parents, and it was one worth telling. Wrath and Anha once ruled the entire vampire race and their beautiful and tragic story is what touched me the most in this book.
As funny as I sometimes find the names of these characters, I appreciate that it's Ward's signature of sorts and accept is as such even as she accumulates more and more of them, to the point where I'm finding it hard to keep track. That said, there's a character named iAm, for heaven's sake, and a new character named s'Ex, which if you ask me is just pushing things too far.
But we don't read this for the names, we read it despite them and believe you me, there was plenty to love about The King. So many interesting stories have come together, and even though the details were lost on me, I was able to piece together most of it. This world is so intricate, so very well done, and the characters are simply fabulous (ridiculous names notwithstanding).
The thing I like most about Ward is the thick layer of humor in her writing. The King is full of hilarious pop culture references that have the additional purpose of anchoring the story in our world, connecting the supernatural and the (overly) familiar. There are mentions of Miley Cyrus, Taylor Swift and Man of Steel, and that's just in the first chapter. Admittedly there were times when all the references to products, celebrities and such got to be too much, but all in all, including them was a brave and interesting move on Ward's part.
I am so very tempted to go back and read what I've missed. For those of you who've been following the series diligently, The King is the best reward you could possibly get. And those among you who are yet undecided should make the decision to read this. There's much to look forward to.
A copy of this book was kindly provided by the publisher for review purposes. No considerations, monetary or otherwise, have influenced the opinions expressed in this review.