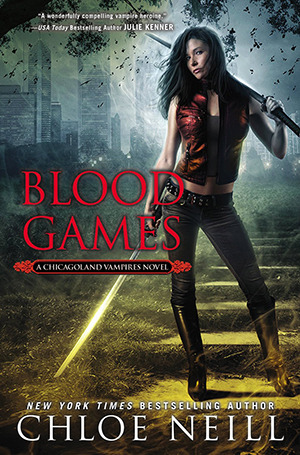 Author: Chloe Neill
Series: Chicagoland Vampires, #10
Released: August 5th 2014
Publisher: NAL Trade
Format: Paperback, 352 pgs
Source: Publisher for review
Buy: The Book Depository
While Merit didn't choose to become a vampire or Sentinel of Cadogan House, she vowed to fight for her House and its Master, and she's managed to forge strong alliances with powerful supernaturals across Chicago. But even though Merit has had wild adventures, this may be her deadliest yet...

A killer is stalking Chicago, preying on humans and leaving his victims with magical souvenirs. The CPD hasn't been able to track the assailant, and as the body count rises, the city is running out of options. Vampires and humans aren't on great terms, but murder makes for strange bedfellows. Can Merit find the killer before she becomes a target?
There's something to be said about a series that's reliably good even after ten installments. Chicagoland Vampires may not be my favorite urban fantasy ever, but it's certainly on my list of favorites. And as other series disappoint me and the list gets shorter, Chloe Neill can be counted on to deliver. That's not to say that the series didn't have its ups and downs. There was a low point a few books back that's pretty much forgiven and forgotten. The last few books have been excellent and the next few will likely be fabulous as well.
In Blood Games, Merit, Ethan and Jonah investigate the death of an ally. The son of a detective, a well-known friend of vampires no less, has been brutally murdered. The manner of his death blatantly points to vampires themselves, which can be taken as a warning to those who help them, or as a direct move against Merit's kind.
On top of that, Ethan is right in the middle of a major political battle, and the story arc about GP is finally brought to its boiling point. I have to say I was a bit surprised, but very happy with how it was resolved. The alternative had the potential to ruin the series, not to mention Ethan and Merit's relationship.
Ethan Sullivan, I'm afraid, is his usual stubborn self. No matter how many times he gets burned for being stubborn and difficult in his relationship with Merit, the man just never learns. Honestly, by now Merit should have thought of some sort of cruel and unusual punishment for this type of behavior, preferably something that includes Ethan on display with very little clothes on. Or you know, none. Through it all, though, Merit was consistently mature. She handled the situation with her usual calmness and grace. She, apparently, learned a lot, while Ethan remained frustratingly oblivious.
The secondary characters remain just as strong. I'm surprised by how much I've warmed up to Jonah, considering my initial feelings about him. But I like discovering his character, finding out details that further convince me of his intelligence and integrity. Neill has had a lot of time to develop his personality, and she's done an amazing job of it.
I love these guys so much by now and I can't wait to continue their adventure.
A copy of this book was kindly provided by the publisher for review purposes. No considerations, monetary or otherwise, have influenced the opinions expressed in this review.