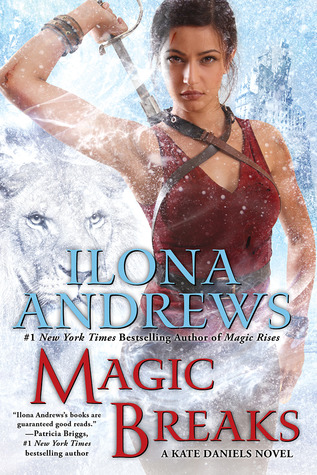 Author: Ilona Andrews
Series: Kate Daniels, #7
Published: July 29th 2014
Publisher: Ace Hardcover
Format: Hardcover, 302 pgs
Source: Publisher for review
Buy: The Book Depository
No matter how much the paranormal politics of Atlanta change, one thing always remains the same: if there's trouble, Kate Daniels will be in the middle of it…

As the mate of the Beast Lord, Curran, former mercenary Kate Daniels has more responsibilities than it seems possible to juggle. Not only is she still struggling to keep her investigative business afloat, she must now deal with the affairs of the pack, including preparing her people for attack from Roland, a cruel ancient being with god-like powers. Since Kate's connection to Roland has come out into the open, no one is safe—especially those closest to Kate.

As Roland's long shadow looms ever nearer, Kate is called to attend the Conclave, a gathering of the leaders from the various supernatural factions in Atlanta. When one of the Masters of the Dead is found murdered there, apparently at the hands of a shapeshifter, Kate is given only twenty-four hours to hunt down the killer. And this time, if she fails, she'll find herself embroiled in a war which could destroy everything she holds dear…
For Ilona and Andrew Gordon, the husband-and-wife writing team behind the pen name Ilona Andrews, Magic Breaks is the ultimate show of strength. These two have nothing left to prove, their writing is reliably excellent and funny as all get-out. It's been a long, long time since I've felt any trepidation when buying one of their new releases. Magic Breaks is the book in which all their skill and their significant experience come to light.
This is a pivotal point in the Kate Daniels series – a seven book long story arc about Kate's origins and a certain member of her family finally comes to an end. There is no Luke-I-am-your-father moment; by now, we all know who Kate's father is, but this is where we learn more about his appearance and his feelings towards Kate and the shapeshifters.
This is Kate's most difficult journey by far, be it emotionally or in the skill department. Her father had thousands of years to develop his magic and his strength - in comparison, Kate's life and training seem like child's play. It is hard for both Kate and the reader to imagine a positive outcome. A strong sense of hopelessness is always threatening to envelop us all and only Kate's heart full of love and integrity keeps us from falling into a pit of despair.
And still, even the apocalypse right around the corner doesn't stop our Kate from letting her trademark sense of humor out to play. Her constant sarcastic remarks stopped this from turning into gloomy read, even when there was very little hope on the horizon.
There is a prologue of sorts at the beginning of Magic Breaks, told by Barabas, everyone's favorite weremongoose, Kate's trusted friend and the Pack lawyer, in which he recounts the important things that happened in the previous six books. Because of this, the actual story didn't need to be burdened with endless recaps on which the editors at Ace usually insist.
In the end, Magic Breaks wasn't at all what I expected (not that I knew what to expect in the first place). In many ways, it was even better and the brilliant ending paved the way for a whole new story arc, which we'll be able to enjoy in the three more books that are certain at this point.
Do yourselves a favor and read this.
A copy of this book was kindly provided by the publisher for review purposes. No considerations, monetary or otherwise, have influenced the opinions expressed in this review.
If you're interested in this series, stop by the Fantasy Book Critic to read
a multi-blogger interview
about it, put together by my friend Mihir, with me as one of the interviewees.
Thanks to the lovely people at Penguin, I'm also currently running
a giveaway of three copies of Magic Rises
, the previous book in this series. Make sure to stop by and enter.