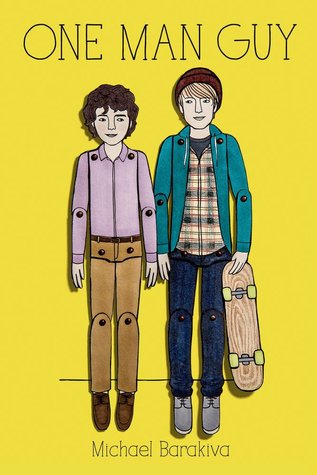 Author: Michael Barakiva
Published: May 27th 2014
Publisher: Farrar, Straus and Giroux
Format: Hardcover, 272 pgs
Source: Publisher for review
Buy: Amazon
Funny and heartfelt, One Man Guy serves up the raucous family humor and gentle romance of My Big Fat Greek Wedding, as told with David Sedaris–style wit.

Alek Khederian should have guessed something was wrong when his parents took him to a restaurant. Everyone knows that Armenians never eat out. Between bouts of interrogating the waitress and criticizing the menu, Alek's parents announce that he'll be attending summer school in order to bring up his grades. Alek is sure this experience will be the perfect hellish end to his hellish freshman year of high school. He never could've predicted that he'd meet someone like Ethan.

Ethan is everything Alek wishes he were: confident, free-spirited, and irreverent. He can't believe a guy this cool wants to be his friend. And before long, it seems like Ethan wants to be more than friends. Alek has never thought about having a boyfriend—he's barely ever had a girlfriend—but maybe it's time to think again.
Try as I might, I can only think of several YA books with LGBTQ main characters that really took my breath away. In fact, I can probably count them on my fingers. (Not that I need my fingers to count, people! I suck at math, but not that much!) While this saddens me for so many reasons, it's comforting to see more and more being written every day. And besides, the novels we do have are all pretty spectacular. Just think: Gone, Gone, Gone by Hannah Moskowitz; Brooklyn, Burning by Steve Brezenoff, the spectacular Suicide Notes by Michael Thomas Ford; the Printz medalist Aristotle and Dante Discover the Secret of the Universe by Benjamin Alire Saenz; and, (this I'm assuming because I haven't read it yet) The Miseducation of Cameron Post by Emily Danforth.*
Naturally, when I discovered
One Man Guy
, I hoped with all my heart that it would find its place among these brilliant novels. Unfortunately, it fell just a little bit short. It was lighthearted, funny, but not memorable enough, and certainly not set to become a classic. A worthy attempt with something missing. In that, it reminded me of
Two Boys Kissing
by David Levithan.
The plot is actually pretty straightforward: young Alek meets Ethan, a boy from school and his complete opposite, and starts having feelings towards him. These feelings lead him to conclude that he is not, in fact, straight. Alek doesn't spend too much time struggling with this fact. He is open-minded by nature and once he connects the dots, he just accepts things for what they are. That fact alone made me like him very much. Overall, Alek is a fascinatingly realistic character – a bit younger than I'm used to, but honest, with typical teen anger issues and insecurities.
However, while I liked Alek very much, I found his relationship with Ethan just a bit too disappointing. Ethan influenced Alek in ways I didn't particularly like and their dynamic, colored by Ethan's previous relationship with an older boyfriend, wasn't something my heart could get behind.
Actually, the LGBTQ theme wasn't what I appreciated most about this novel. Instead, I was thrilled by the intercultural undertones and the lightly satirical portrayal of Armenian culture. System of a Down has been my favorite band for over 15 year so I've made it a point to learn as much as I could about the Armenian genocide, but their culture, things like Armenian cuisine and mentality, remain a mystery to me. It was interesting to see it through Alek's eyes, colored by his mixed feelings of pride and teen rebellion.
Overall,
One Man Guy
is a noteworthy debut that left me determined to read whatever else Michael Barakiva writes. There's room for improvement, sure, but his writing is filled with honesty and warmth one can't help but appreciate.
*There are, of course, others like
Boy Meets Boy or Pink
- great books, but not personal favorites. Feel free to mention more in the comments.
A copy of this book was kindly provided by the publisher for review purposes. No considerations, monetary or otherwise, have influenced the opinions expressed in this review.