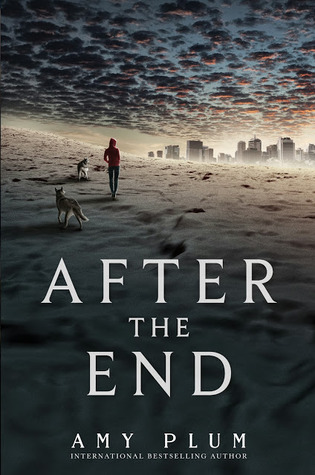 Author: Amy Plum
Series: After the End, #1
Published: May 6th 2014
Publisher: HarperTeen
Format: Hardcover, 352 pgs
Source: Publisher for review
Buy: Amazon
World War III has left the world ravaged by nuclear radiation. A lucky few escaped to the Alaskan wilderness. They've survived for the last thirty years by living off the land, being one with nature, and hiding from whoever else might still be out there.

At least, this is what Juneau has been told her entire life.

When Juneau returns from a hunting trip to discover that everyone in her clan has vanished, she sets off to find them. Leaving the boundaries of their land for the very first time, she learns something horrifying: There never was a war. Cities were never destroyed. The world is intact. Everything was a lie.

Now Juneau is adrift in a modern-day world she never knew existed. But while she's trying to find a way to rescue her friends and family, someone else is looking for her. Someone who knows the extraordinary truth about the secrets of her past.
Although I'm a big fan of Amy Plum's Revenants series, I started After the End with no small amount of trepidation. Writers are sometimes more than just defined by their first story, they get stuck writing endless variations of it, unable to find their voice elsewhere. For whatever reason, I feared that Plum might be one of those authors. Boy, was I ever wrong.
I've had little time to read and even less patience for it lately, being preoccupied with finishing my thesis in time. Therefore, finding something to read that would make me drop everything else and focus on it entirely proved to be incredibly hard. And yet, I started After the End at 9 pm, and finished it that very same night.
The idea of someone's life being built entirely on lies fascinated me to no end. Juneau was raised believing that World War III ended the world as we know it in 1984, leaving just a few survivors scattered around the planet. Her small clan supposedly found salvation in Alaskan wilderness, far away from civilization and technology. Through their close connection with nature, they developed certain powers that others would love to exploit. And Juneau, being the most powerful among them, is the most important father.
As the son of a pharmaceutical mogul, Miles is your typical attention-seeking spoiled rich kid. In trying to get back in his father's good graces, he sets out to find the one person his father wants above all else – a young girl with very strange eyes.
These two are so interesting together. It's clear from the start that they couldn't be more different. Miles was raised with access to all the commodities of the 21st century, and Juneau with a clear understanding of the world beneath. The animosity they felt towards each other and the level of mistrust were expected. No starry eyes for those two! I felt that the progression of their relationship was handled beautifully, with deliberate slowness and tact. When you add to that their hilarious banter, it's clear why they quickly became one of my favorite couples.
This world and these characters have a lot more to give, and while I don't appreciate or even understand cliffhangers, I was left with just enough hope to tide me over until the next book. That said, hurry up, Ms. Plum! I realize living in Paris can be distracting, but would you please write faster?!
A copy of this book was kindly provided by the publisher for review purposes. No considerations, monetary or otherwise, have influenced the opinions expressed in this review.