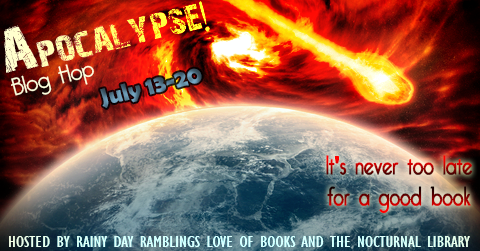 Apocalypse! is an eight day blogging event hosted by
Heidi@Rainy Day Ramblings
,
Christy@ Love of Books
and Yours Truly. The event will include a giveaway hop along with a whole lot of apocalypse-related interviews, guest posts etc.
Here's what you need to know if you wish to participate in the giveaway blog hop:
Your giveaway must have a dystopian/post-apocalyptic theme.
All posts must be up by Midnight on July 13th and run through July 20th.
You can give away a gift card for the reader's choice for an end of the world type book, an ebook or a book or anything bookish that relates to the theme.
All you have to do to sign up is add your name to the linky below.
Please make sure to let us know whether your giveaway is US only or international.
In your post, you can either link back to the hosts or use the linky code, which will be provided before the posts go up.
Thank you so much for joining the fun!
There is, of course, one more way to participate and the two are not mutually exclusive.
You can do an apocalyptic/dystopian feature on your blog any day from July 13th-20th.
It can be a guest post, interview, review or anything else you want to do.
Your post would have to incude a giveaway.
Each day of the event all three of the host blogs will have a linky list for you to add your link and we will be helping to promote your posts.
A schedule will be posted soon, and if you email one of us with a date and the type of post you want to do, you will be included.
I will be happy to mention your post in mine each day if you let me know ahead of time. I will also promote your post on Facebook and Twitter.
Again, thank you for joining us!
I've created an Apocalypse! page on my blog which will allow you to learn new details and sign up even after this post gets lost in the abyss that is my feed.

If you want to participate in any way or if you have additional questions, you can email me at maja@thenocturnallibrary.com and I'll be happy to help in any way I can.



Apocalypse! It is NEVER too late for a good book! Grab the buttons and help spread the word! The end is near!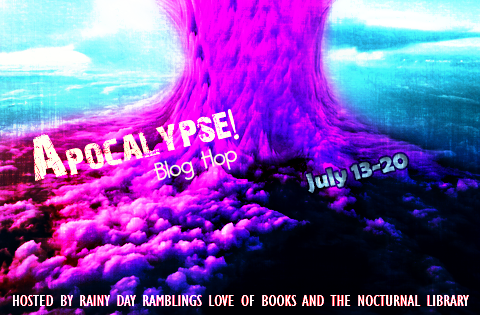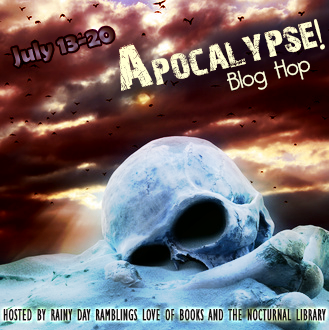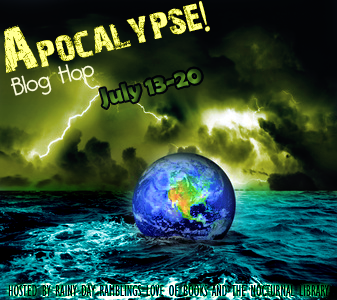 Our warmest thanks to
Veronica @ Mostly Reviews
for these buttons.
Love,