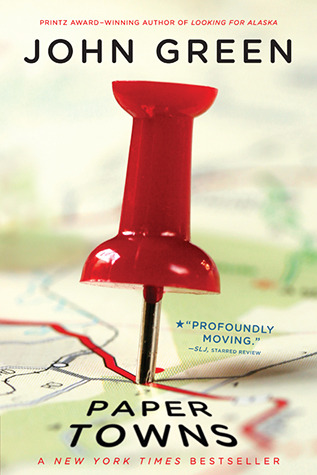 Author: John Green
Series: Standalone
Published: October 16th 2008
Publisher: Dutton Juvenile
Length: 305 pages
Source: Publisher for review
Buy: Amazon
Quentin Jacobsen has spent a lifetime loving the magnificently adventurous Margo Roth Spiegelman from afar. So when she cracks open a window and climbs into his life—dressed like a ninja and summoning him for an ingenious campaign of revenge—he follows. After their all-nighter ends, and a new day breaks, Q arrives at school to discover that Margo, always an enigma, has now become a mystery. But Q soon learns that there are clues—and they're for him. Urged down a disconnected path, the closer he gets, the less Q sees the girl he thought he knew...
Well,
Looking for Alaska
remains my absolute favorite, but this wasn't what I expected, and I mean that in a very good way. In the end, it wasn't what I expected at all.
"Tonight, darling, we are going to right a lot of wrongs. And we are going to wrong some rights. The first shall be last; the last shall be first; the meek shall do some earth-inheriting. But before we can radically reshape the world, we need to shop."
The first 80% of this book followed John Green's usual (and usually successful) recipe: a smart, well-read and generally well-balanced boy (
"Both my parents are therapists, which means I am really goddamned well adjusted."
) becomes obsessed with a beautiful, chaotic and self-destructive girl and, through his infatuation, learns about himself, life and adulthood.
Quentin Jakobsen has been in love with his next-door neighbor Margo Roth Spiegelman for as long as he can remember. Margo is everything: she is the most popular girl in school, she is smart, she is funny, she is restless. She has also been ignoring Q ever since they were old enough to have friends outside their neighborhood. Then, one night shortly before their graduation, Margo shows up at Quentin's window and invites him along for a night or "righting some wrongs and wronging some rights", after which she disappears, leaving only a few vague clues for Quentin to find. Instead of focusing on his finals and his upcoming graduation, Q becomes obsessed with finding Margo dead or alive (although dead seems more likely by the minute) and while searching, he learns the difference between Margo the dream and Margo the girl.
There are many wonderful things I could say about this book, but above all, I appreciated that Green kept pointing out how extraordinarily self-centered each and every character was. I would love to say that this was limited to teens, as one expects teens to be completely egocentric, but it started with Margo's parents and spread to everyone else involved. It was sobering in a way, reading about a group of friends in which no one was actually listening to anyone else. It is such a common disease – living in our own heads, caring only about things we have to say and pushing people into the roles we need them to take, accepting parts of them that are somehow useful or necessary to us and ignoring those we find unappealing. And in this orgy of self-centeredness that John Green chose to portray stood Quentin, the most selfish of them all, because his selfishness wasn't as obvious as that of others. Even in his search for Margo, even while he was constantly repeating that she deserved to be found, what he actually meant was that he deserved to find her, that he deserved to get his ending and be the most special person in Margo's life, regardless of what the ending actually was. It was creepy and it made me uncomfortable in ways I can't even begin to explain.
As a huge fan of Walt Whitman, I appreciated the intertextuality in this one. The key to Margo's whereabouts was hidden in Whitman's
Song of Myself
, which was something I enjoyed immensely, and I admired how Green made the plot (and the poem) accessible even to those who weren't previously familiar with it by quoting the most important parts and offering his interpretation of them and the poem as a whole.
There is something about Green's humor that just sits well with me (well, except in
An Abundance of Katherines
, so let's not talk about THAT book ever again, please). It is true that he uses the same molds over and over again to create his characters: Alaska, Margo, Katherine – if you've met one, you've met them all. It is also true that his dialogues can be a bit pretentious, seeing how his characters have a smart comeback or a quote ready for every situation, which makes them just a tad unrealistic at times. It is, however, also true that I would much rather read about smart and witty characters, characters that, I suspect, have much of John Green himself in them than boring and average ones.
But this is where it all went wrong: I didn't know enough about Margo Roth Spiegelman to care about her one way or the other. I wasn't really invested in her fate because I developed no emotional attachments whatsoever. As much as I understood Quentin's obsession with her on an intellectual level, I didn't
feel
it with him, and I absolutely needed to feel it with him in order to accompany him on his journey. I felt like an observer, and I wanted very much to be a participant.
I have now officially read every book John Green has published (except the one I gave up on, you know, the one that must not be named), but whatever he's working on now, I'll preorder months before the release date.