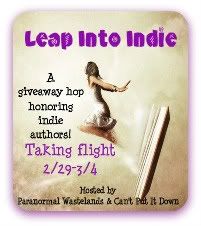 Hi guys, welcome to Leap Into Indie giveaway hop, hosted by Paranormal Wastelands and Can't Put It Down. There's been a lot of talk about self-publishing lately, and even though there are still people who resist this trend, it cannot be denied that there are some pretty amazing self-published works out there. We all adored Angelfall, didn't we? And, incredibly enough, Christopher Paolini self-published Eragon before Knopf picked it up.
Unfortunately, we had to chose just one book to give away this time, and since we both absolutely adored Flat-Out Love and it's available on The Book Depository, that's what you can enter to win today. Flat-Out Love is one of the very few books on my 'books that changed me shelf', one of my favorite 2011 releases and even one of my favorite books of all-time. Everyone who knows me knows that I rarely read contemporary romance, but I'm so glad I decided to read this one. If you're interested in our reviews, just follow the links:
Maja's review
As always, thank you all so much for stopping by. Make sure to visit other blogs and enter their giveaways too, and of course, good luck to all!
a Rafflecopter giveaway